Mary Weymark Goss
P283 Fossil Fold
20x24" oil on canvas
private collection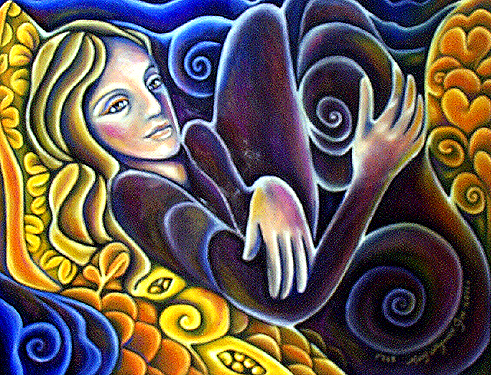 February 1, 2002: Spent some time in the studio, working on P283, Fossil Fold. I have been adding blue waves in the background, which give the impression that Abby is underwater. It reminds me of the wall hanging Debbie and I have been working on at the mall.

February 16, 2002: Most of today I spent working on P283, Fossil Fold. The face of the figure, which Abby posed for, is strange, even for one of my creatures. I always make the face too cute when I use Abby for a model, so then I am inclined to warp and twist it into one of my bug-eyed monsters with a pout or a frown.

February 22, 2002: The first thing I did this morning, after coffee, books and writing, was to go in the studio. I picked up some pastels and began touching up P283, which still did not please me, and in a few strokes of yellow and purple and blue, it turned into the painting I wanted.